Business and Management
Without excellent management, companies like Coca-Cola and General Electrics would still be small businesses. The US wouldn't be a trillion dollar economy without great business managers. Although the road to becoming a top business manager is long and wide, it all starts with an undergraduate program at the right business and management school. It asks for the right attitude, commitment, and hard work to become the next best CEO.
What are Business and Management?
Business and management is the complex process of managing talent, inventory, handling planned and unplanned business processes and making decisions that affect a business. A business manager, therefore, works hand in hand with the company's owners to run it efficiently.
Business management consists of several major areas: Strategic planning, decision-making, communication management, human resource management, and inventory management. While some of the areas duties can be delegated, strategic planning is the most important in the work of a business manager. The business manager must develop goals together with departmental managers and make major policies that affect the overall running of the company. The management must also manage internal business data and important information about the industry in order to achieve the business' goals.
Related topic: Business and Management
Why should you Study Business and Management?
Business and management may be a broad field, but it offers a wide range of career opportunities. Studying a degree program in business and management prepares you to solve business problems with modern and efficient methods, it prepares you to be the next Steve Jobs, or at least be a better person in management. Overall, here are five major reasons you may want to study the program.
Skilled Business Managers are in High Demand
Business and management combine a wide range of issues in the business world. The program prepares you to solve these problems in the most efficient manner. And if you can meet the required skills, there is a high demand for business managers prepared to help businesses achieve their goals and objectives.
The Program Covers a wide range of issues
As the needs of modern businesses and organizations continue to change, so are the requirements for new employees. Pursuing a program in business and management prepares you to handle a wide range of financial, human resource, inventory, technology-related issues, and taxes. With skills in all of those areas, you get an edge over any other candidate at a job offer. Additionally, numerous skills become a potential employee in a wide range of industries and settings. You could open your own business, work with a start-up or join a huge organization and still perform efficiently.
Top Salary and Room for Growth
Generally, a college graduate in business and management won't receive the highest of salaries, but they still earn higher than their peers. Someone with one to three years of experience can expect a salary of between $36000 and $65,000. As your experience improves, the pay can shift upwards of $100,000, with some global companies paying millions of dollars in salaries to the CEOs. Besides top grade salary and pride of being the CEO of a manager, the program opens doors that could help you advance your knowledge in business and management, and potentially help you land a dream job in a top company.
You have limited Understanding in a particular field
If you are a financial officer, an ICT expert or someone who specializes in any other field, you may not have the requisite skills needed to run an organization efficiently. Pursuing a business and management program prepares you to understand the bigger picture in business management. It prepares you to approach all aspects of business management in the right way.
What Skills do you need?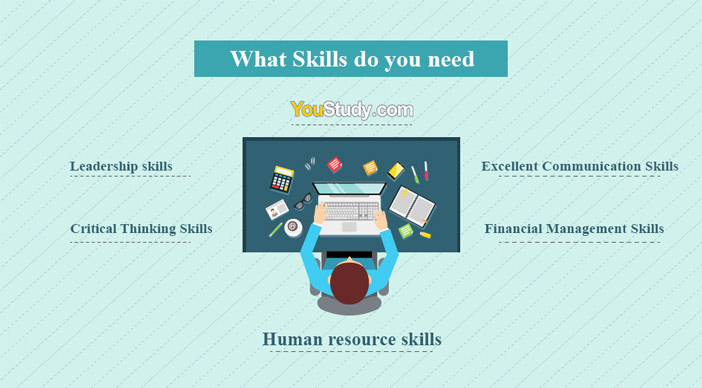 What's trending in the business world is constant changes in responsibilities and approaches to different issues. An efficient manager, therefore, requires great flexibility, the ability to work with people and to make the right decisions and the right time.
A good business manager has excellent leadership skills. As a leader, you are after all expected to set the right priorities, lead people to a work environment, coach them and guide them in their work. Almost all the duties of a good leader demand that you have excellent leadership and business management skills.
Excellent Communication Skills
To convince departmental managers on the priorities to follow, to coach them and to motivate them to work hard requires that you be good at both oral and written communication skills. It also takes excellent communication skills to create a convincing presentation, to inspire your co-workers and juniors.
As a leader, you are expected to make the right decisions all the time. To approach different problems in the company, you are expected to be a critical thinker and good at problem-solving. Additionally, it takes critical thinking to make decisions that are not biased even when you are under pressure.
Financial Management Skills
Financial skills help you know how to manage money issues within the organizations. They help you know the implications of making each decision in the company. With sound financial skills, you are able as a manager to work with the finance department and prepare a sound manager, plan how to follow the budget and work towards achieving the organization's goals.
One of the fundamental responsibilities of a business manager is to work together with other employees in the organization. To be a good manager, therefore, you need how to build rapports, acknowledge people's differences, how to negotiate and form alliances.
Admission-What are the Entry Requirements?
In the US and Canada, the basic educational requirements is a high school diploma or the equivalent and good grade averages of above 3 points. In the UK, the requirements are a pass in GCSE with grades A in at least five subjects. Among all top universities, the requirement to pursue a business and management program will demand a high pass grade and the demonstration that you have great leadership skills. Some universities will ask you for an interview or an essay to demonstrate that you are really interested in pursuing the program.
Duration of Study
In many parts of the world, an undergraduate degree program in business and management takes three to four years to complete. In the US, the program takes four years at the undergraduate level and an extra two years for your master's level. The first two undergraduate years underpin knowledge about the core business principles, while later years ask the students to specialize in an area that interests them.
Some universities and business schools do, however, allow students to complete the program in fewer years by studying online or taking more workload. Some offer distance learning or part-time learning to working students.
What are the Job Opportunities?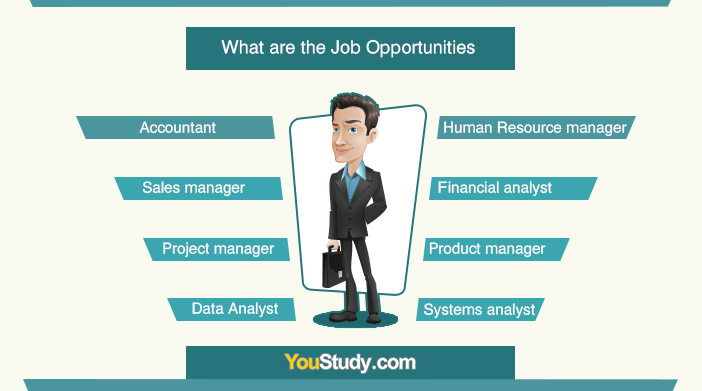 There are dozens of jobs opportunities where the skills of a business manager would be needed. Below are some of them:
Accountant-Accountants prepare an organization's financial statements, keep financial records and ensure that all the business's financial deals are handled. Although some organizations will ask you to pursue an additional accounting related course, many organizations do employ business and management graduates for this position.
Human Resource manager-With your management skills, you are expected to oversee recruiting processes within the organization, training and coaching new staff and listening to employee needs.
Sales manager- Sales managers guide the sales force in setting goals, overseeing that these goals are achieved and that the sales team get adequate training to handle changes within the industry.
Financial analyst-These professionals assess the organization's investments and provide sound advice on their developments.
Project manager
Product manager
Data Analyst
Systems analyst
What is the Expected Salary?
With over one hundred career opportunities for graduates of business and management, salaries in this industry vary widely. The average salary in 2016 stood at $52,000 for medium organizations in developed countries. For top organizations, the salary range between $80,000 and 120,000. On the lower spectrum, entry-level job applicants can expect a salary of $35,000 or slightly higher. The salary scale also increases as you pursue additional knowledge and skills in the field.
Top 10 Business and Management Schools
The top 10 business schools are mostly the world's best-ranked universities, although the list follows no specific order.
Harvard University, United States

London Business School, United Kingdom

INSEAD Business, France

Stanford University, United States

The University of Pennsylvania, United States of America

Massachusetts Institute of Technology, United States of America

University of Cambridge, UK

University of Oxford, UK

London School of Economics and Politics LSE, UK

Bocconi University, Italy