Creative Arts and Design
Art is a means to express one's self. The creative arts and design field is one of the oldest professionals in the world. From the Egyptian artists who expressed the Egyptian culture hundreds of years ago to the renaissance era artists who give us a glimpse of what it felt like to live at the time, art has been within us for a long time. Today, the creative arts and design professions matter in equal measures as they mattered years ago, only that the field has evolved much further.
What is Creative Arts and Design as a Specialization?
For someone who loves to paint, work around sculptures, take photographs, design objects or perform anything else considered an art, pursuing knowledge that will help you improve your skills can be helpful to your career. Specialization in the creative arts and design field helps you learn more about your interests, interact with professionals who have worked as artists before and interact with other students with the same interests as you do. Joining an art college also exposes you to multiple interdisciplinary fields and tools that help you broaden your knowledge of the field.
Why should you study Creative Arts and Design?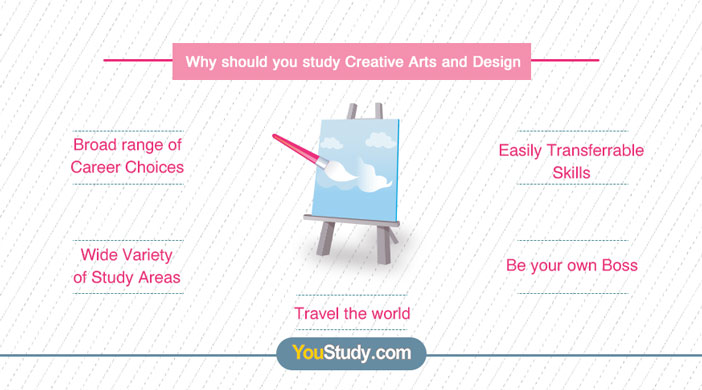 Almost every great culture is identified by the work of their artists. We know about ancient Egypt and Greek mainly because the artwork performed at the time can be seen today. If you often visualize and think deeply about the society you live in and have a dream to express yourself in the art form, you need no conviction to pursue an art degree. With technology dictating almost every aspect of people's lives today, the artists and designers of today will create and design artwork that will be critiqued generations to come. What's even better, you have the following benefits on your side:
The broad range of Career Choices
From theater to fashion, photography to videography, history to tech-inspired design, you could work in almost any industry you dream of. Sources of inspiration for an artist today are limitless, and professions associated with the creative arts and designs are numerous. Whether you dream of working in the mainstream media, you wish to become a teacher of arts or a simple street artist; you can achieve your dream through a degree in the arts.
Easily Transferrable Skills
Unlike most professions, the creative arts and design fields contain skills that you easily learn from other experts. You can creatively build on the photography skills you learn in an art college to distinguish yourself from other photographers. You can exchange ideas with other artists, fine tune your skills and teach others because it's all possible in the arts.
Wide Variety of Study Areas
So, you want to specialize in sculpture designing alone? You don't have to study anything else. The creative arts field is filled with so many inter-disciplines that you get to choose exactly what you wish to study. There are as many courses related to arts and design as there are career opportunities. If you have any wish to become anything related to the arts; simply do some research and you will find the right course for you.
Be your own Boss
As the field continues to evolve, jobs keep changing. Many industries hire artists on a freelance basis. With technology dictating how we work, a lot of trained artists and designers are also choosing to be self-employed. And what better joy is there than to be your own boss? All you need is to get the right qualifications and you could choose how you wish to drive your career henceforth.
Travel the world
Most people wish they could travel the world as often as artists do. Of course, not all artists tour the world in search of inspirations, but you can become part of the artists that do if you join the right art field. Travel journalists, fashion designers, animators, and photographers are part of the professionals in the creative arts that tour dozens of countries every year as part of their work. Join any of these fields and you could travel any part of the world you have always wished to and you will get paid for it.
Read more:
How to Choose your Destination of Study in the UK

8 Practical and Positive Tips for a Successful Studying abroad Life

Studying English in the UK
What Skills do you need?
You will need more than talent and a college degree to find a breakthrough in the creative arts. Most successful artists are actually not always the most talented, but those that understand the importance of having the following skills and applying them in their day to day activities.
You need good communication skills to express yourself as a spoken word artist for instance. You will talk to colleagues every day, propose your ideas to seniors at the workplace and interact with clients on a day to day basis. The success of your work will be impacted to a great extent in how well you can express yourself orally and in written form. Perfect your communication skills before you even join the professional world.
Creativity and Independent thinking
Why are some artists so famous while others are not? Why are some professionals in the creative arts millionaires while others struggle to make a living? The answer is creativity. You will need to be highly creative to design an item that will capture everyone's attention. You will want to be an independent thinker to think about ideas not so popular with other professions? If you become a master of creativity as an artist, you will most definitely become successful in the future.
Self-discipline and resilience
Working on a project for days and weeks is not something everyone can withstand. But if you want to become successful in creative arts, you will want to be self-disciplined. You will want to persevere through challenges to see to it that you achieve everything you set to achieve within a given period of time. And noting that many jobs in the creative arts and design are offered on a freelance basis, learn to be self-disciplined as much as possible.
The best art schools teach you to look at the artwork in a keen way. You learn how to review films based on the production and attention to detail so that you can apply the same to your own art projects. Great attention to detail is actually important in almost every art and design class. Your ability to identify redundancies and areas that need perfection is a skill you must master if you wish to become a successful art student.
Technically, problem-solving skills are what you learn when you join an art & design class. Most art colleges teach you how to turn clay into a sculpture. Animation classes help you learn how to use certain software to create animation works. However, there is a lot you need to learn independently if you wish to become unique in what you do. You must do great research, interact with people and be part of a society to learn problems that can be solved with the help of your skills.
Admission-What are the Entry Requirements?
Entry requirements into an arts college vary a lot. However, the basic requirements area high school diploma, the good grasp of the English language and interest in the subject of study. In some courses, admission requirements may be stricter and may ask for prerequisite knowledge in the field of study.
What is Study Duration?
The structure of a course and the duration it takes to complete it depends on the art college you join. However, the duration for an undergraduate degree in most universities takes four years to complete. Master's degree programs take 2-3 years to complete.
What are the Job Opportunities?
There are dozens of job opportunities in the creative arts and design fields. The most popular opportunities, however, include:
Animator

Art critic

Actor

Architect

Ceramics artist

Choreographer

Compositor

Comic book creator

Curator

Game artist

Graphic designer

Furniture designer

Music artist

Photojournalist

Sculptor

Tattooist
What are the Salary Expectations?
According to Payscale, the salary expectation for people in the creative arts and design range from $42,000-165,000. According to UK firm, prospect.co.uk, starting salaries for most artists are usually low. The starting salaries for fashion designers could be as low as $16,000 a year, but the salaries will often increase highly as you gain experience. Most research firms note, however, that the salaries for professions with a college degree do not differ much to those without as many companies nowadays are more interested at an artist's portfolio rather than their certificates alone.
Top 10 Creative Arts and Design Schools
What is the best college in the world? Here is a list of the most valuable schools to learn and arts and a design course from.
Royal College of Art, UK

Massachusetts Institute of Technology (MIT), USA

Parsons School of Design at The New School, USA

Rhode Island School of Design (RISD), USA

Pratt Institute, America

University of the Arts, London

Milan City University Politecnico di Milano, Italy

College of Arts, Chicago School of the Art Institute of Chicago (SAIC), USA

California Institute of the Arts, USA

Stanford University, USA