Engineering
Engineering is one of the key drivers of a nation's prosperity. The field of engineering combines scientific principles with creativity and in-depth research to find solutions to complex processes. Almost every man-made landmark you can think of was designed with the help of engineering. From the complex super-highways that link-up cities to generators and machines that make work easier, computer development and building of towers, engineering played a role in their development. Who knows by joining the engineering field you could help build great landmarks and develop solutions to some of the world's most complex processes.
What is engineering?
Engineering is a broad field that applies mathematics, science and pragmatic knowledge to help invent, design, research, build and maintain machines, structures, tools, processes, and organizations. A broader definition of the term would also include the fact that engineering forecasts the behaviors of machines, material processes, and tools under certain conditions so that they can later be improved for performance, safety, and operation.

The field of engineering is extremely wide but can be divided into four main areas: Civil engineering, electrical and telecommunications engineering, chemical engineering and mechanical engineering. Each of the fields will have more specialized fields. Beyond these major categories, several other branches such as mining engineering, nuclear engineering, computer engineering, and aerospace engineering have developed to become big areas of their own.

Related topic:All you need to know about Engineering
Irrespective of their field, engineers have to continuously learn new materials and technological improvements in order to develop up to date solutions to existing or new problems. An engineer must also learn how to analyze designs in their merits and demerits and weigh on the processor design that will yield the most success with minimal constraints. In engineering, constraints are anything that hinders the success of using a particular solution to particular problems. The availability of enough resources, limitations, flexibility, costs, safety, marketability and productivity are all common constraints in this field.
Why should you Study Engineering?
Off all degree programs in universities today, engineering is one of the few that offers modern applicable skills that will be needed now and in the future. It's also a creative field, a prestigious field and one where job satisfaction is very high. If you need more convincing, here are some of the reasons why you should think about taking a degree program in general engineering.
Engineering programs introduce you to scientific principles and mathematics. You are taught how to think and act like a professional. You learn how to apply critical thinking, how to apply logic, prioritize and make decisions that lead to the overall success of the business project. The overall goal of an engineering program is to prepare you to handle situations logically, with fewer emotions and more objectivity. All these skills are indispensable in helping you succeed as a professional. It's no surprise also that a large number of engineering students have gone to become CEOs of some of the biggest companies in the world.
Read more: Reasons to Study Engineering in UK
An engineering degree program sets you up for a financially rewarding career in the future. About 4 out of every 10 well-paying jobs are related to engineering, with fields such as petroleum; electrical, nuclear, chemical and computer engineering attracting some of the highest pay packages in the world. The starting salary for an engineering degree is almost double that of the US average pay at $65,000 and the pay could triple within a decade worth of experience.
It's a Field of the creative and critical thinkers
Engineering is the definite go-to career for people who are highly critical thinkers and are good at solving complex world problems. The fact that engineering is a broad field also means that there are numerous challenges to deal with. There are a lot of complex problems that need to be solved. And although you don't solve these problems alone, being part of the team that will make future electric cars and future airplanes can be highly gratifying.
In addition to the high salaries, and engineering degree opens up doors for you to work in numerous industries in any part of the world. After all, engineering underpins practical knowledge that can solve universal problems. The skills you gain in the program are unique and marketable all over the world, and sometimes beyond the world. Engineers also work with multinationals that travel a lot, and this can enable you to travel the world, meet new people and learn about different cultures.
Engineering has one of the highest career satisfaction rates. With the practical know-how you learn from the degree, you can work practically anywhere in the world. You earn a lucrative salary and you have the skills to work in many other areas of life. Part of the career satisfaction among engineers comes in the fact that you are taught hands-on skills, and this can help you build your own designs, machines, and tools.
What are the Fields of Engineering?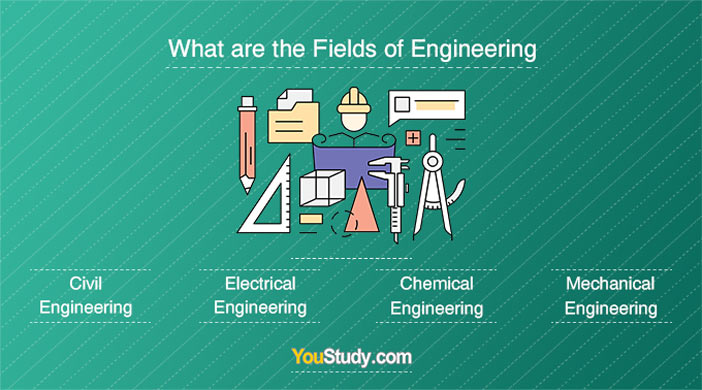 There are four main branches of engineering as earlier mentioned. However, there are numerous other engineering fields that one can delve into. Ensure you check with the faculty of engineering to see what the engineering school offers. The following list contains the main branches of engineering and smaller disciplines in the fields.
Civil engineering revolves around the designing, construction, and maintenance of infrastructure. Civil engineering is one of the oldest fields in this category. The construction and maintenance of highways, bridges, tunnels, railways, subways, buildings, water supply, and treatment facilities are all done with the help of engineering. Other notable sub-fields within civil engineering include fire engineering, waste engineering, geotechnical engineering, environmental engineering, and mining engineering. Most civil engineers work under contracting firms, municipals, governments, and private companies.
Electrical engineering is the process through which electrical energy is generated, produced, transmitted and applied. Electrical engineering is often associated with telecommunications engineering, but they are not the same. Similar to civil engineering, electrical engineering is an umbrella that covers computer engineering, optical engineering, power engineering, and electronic engineering.
Chemical engineering applies the principles of chemistry, physics, and mathematics to design, operate and maintain equipment used in the manufacture of chemical products. Chemical engineers play an important role in the designing of leather, soap, paint, plastics, and detergents. The main sub-disciplines of chemical engineering are biomolecular engineering, material engineering, process engineering, corrosion engineering, and molecular engineering.
Mechanical Engineering
Mechanical engineering design is the field that studies and analyses heat and mechanical power in order to develop machines and operating systems that can solve modern problems. Manufacturing engineering, acoustics engineering, automotive engineering, power plant engineering, and sports engineering are some of the major sub-fields in this category.
What Skills do you need?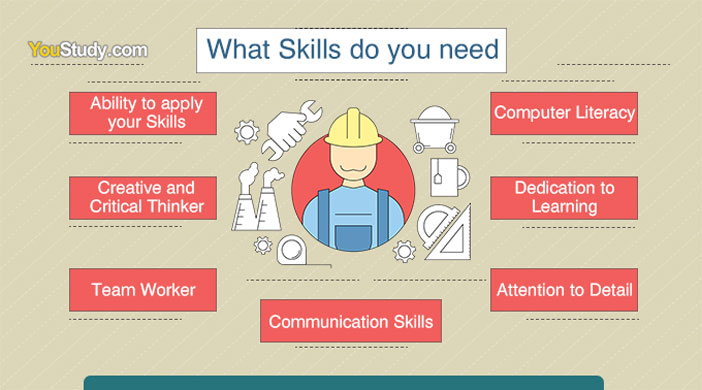 The most important skills you'll need as an engineer revolve around core areas in your field of study. Grasping as much knowledge and practical know-how in your area of interest already qualifies you to be an engineer. But to be a successful professional, you will need more of the following skills.
Ability to apply your Skills
The field of engineering is highly practical, and employers no longer look at the grades alone. Your theoretical expertise in engineering is only a reflection of your understanding of the curriculum. However, the industry requires professionals who can apply these skills to solve real-time world problems. If you already have a project that functions, then you are on the right road to becoming a successful engineer.
Creative and Critical Thinker
Engineering is a tough field filled with complex issues that need to be fixed. As engineering students, you are expected to be highly creative and design project that can solve people's problems in the most efficient and easy to understand manner. You need to be a critical thinker to brainstorm workable ideas which you can then creatively develop into workable solutions. Critical minds are highly needed in the engineering fields to make it even more successful.
Team Worker
Most of the projects done by engineers are complex and therefore ask for the skills of professionals from other disciplines as well. A good engineer must be willing to work as a member of a bigger team of experts in order to solve complex issues. Most engineers, for example, work together with a project manager, architects, designers, marketing managers, and support staff.
Computer Literacy
Computer literacy is a life-skill for many professionals. An understanding of how engineering-related software, programs, and IT tools work is a must-have skill for every engineer worth the name. Computer engineers and telecommunications will certainly need an even understanding of computers and software.
Dedication to Learning
An engineering degree program demands a lot of hard work and commitment to complete it. Yet, learning for an engineer does not cease at graduation. Quite the contrary, many engineering continue to increase their knowledge and understanding of the field, industry standards and changes that could help them become better engineers.
Attention to Detail
Engineers, while they handle complex processes, must think through every step of developing a solution to the specific problem. Every step involved in constructing or developing new machines must be followed with attention to detail in order to complete it successfully without wasting resources. A good engineer needs to pay attention to detail so that everything important in the project is done at the right time and done properly.
Communication Skills
Since engineers work as members of a bigger team, they must know how to communicate with other people in easy to understand ways. An engineer must, therefore, possess excellent oral and written communication skills so that they can communicate with peers and non-peers effectively.
Admissions-What are the Entry Requirements?
Entrance into most engineering universities is similar: Possess straight A's in your studies and have a high interest in math, science and English language. However, the specific entrance details differ from one institution to another. Top universities, for example, ask potential students to take proficiency tests in science and math before they are considered for a position. Note also that different engineering schools offer different specializations. Check with the faculty of engineering to ensure that your preferred discipline of study is offered in the engineering school.
Duration of Study
It takes a minimum of four years to complete an engineering degree. In most countries, an undergraduate engineering degree takes five years to complete. A master's degree in most engineering field takes another two to three years to complete. A PhD degree takes another 4 to 7 years to complete.
What are the Job Opportunities?
Job opportunities for engineers are numerous and come with prestigious titles. Below are some of them:
Computer engineer

Electrical engineer

Petroleum engineer

Agricultural engineer

Chemical engineer

Civil engineer

Aerospace engineer

Chemical engineer

Materials engineer

Civil engineer technician

Biomedical engineer

Engineer professor

Health engineer

Locomotive engineer

Mining engineer

Sound engineer

Stationary engineer
What is the Expected Salary?
Jobs in the engineering field attract much higher than average salaries. However, since almost all engineering jobs are well-paying, it's also important to join a field with the highest potential for advancement. Nonetheless, here are the expected salaries for engineers. Petroleum engineers tend to earn the highest, with an average petroleum engineer earning upwards $120,000. Electrical engineers have an average salary of $89,000. Computer engineers earn an average of $100,000 a year, while average chemical engineers earn in the upwards of $110,000.
Civil engineers earn an average of $87,000, but the field has one of the highest career growth rates at 19%. Environmental engineering and operations engineering are other fields with high growth rate among the developed countries.
Top 10 Engineering Schools
The best engineering universities are distributed fairly around the world. Half of the top ten schools are located in North America though, while the rest are distributed in the UK, Europe, and Asia.
California Institute of Technology, United States

Stanford University, United States

Stanford University, United States

Massachusetts Institute of Technology, United States

University of Cambridge, UK

Princeton University, United States

National University of Singapore, Singapore

Imperial College London

Zurich Institute of Technology ETH Zurich, Switzerland


University of California Berkeley, United States