Sports Science
Sport is a multi-billion dollar industry graced by thousands of celebrated sports performers who keep us entertained every day. But to keep the elite sportspersons physically fit, healthy and at their level best, we need professionals such as therapists, nutritionists, and sports managers to steer specific sports industries forward. If you have ever dreamt of working alongside your favorite soccer or basketball hero, pursuing a degree in the sports sciences should be at the top of your mind.
What is Sports Sciences?
Sports science is the interdisciplinary field that deals with the application of scientific principles that improve body performance. The sports sciences consist of a wide range of specializations such as psychology, nutrition, physiology, business management, biomechanics and science in general. All sports science degrees are geared towards helping the body achieve greater performance. This explains why almost everyone who studies a sports science degree ends up working in a sport related field.
Why should you study Sports Sciences?
Sport science jobs attract high salaries and the excitement to work with celebrated professionals, but there are a lot more reasons to pursue a degree in this field. If you are interested in turning your love for the sport into a profession that could add impact to the community, there are reasons to cheer you up.
Add Impact to the Sports Society
Sport is an appreciated field in almost every society. People hold elite athletes with high regard both in the field and in the community. Unfortunately, they can't make it on their own. Pursuing a sports degree will allow you to make a contribution to your community by helping the athletes stay fit, manage the sports business or other professionals within the sports fields.
You work with High Profile Clients
There is pride in working with famous people. Maybe one reason why you want to pursue a degree in the sports sciences is to feel part of the celebrities you admire. Whether you would like to be the physiotherapist of a famous baseball player, a talent agent of your favorite sports club or a charity event organizer in the sports industry, you have a big shot by pursuing a degree in this field.
You skills apply in Numerous Fields
Maybe your dream is to work as a physiotherapist for famous athletes, but you can also be the physiotherapist for anyone else who needs your help. If you dream of becoming a sports manager, your degree could elevate you to the president of a sports league or a company that deals with different matters other than sport. That you are in the sports sciences only gives you an edge to work in the sports field, but you could apply your skills in numerous other industries.
There is a wide variety of career opportunities in the sports sciences. From athlete training to coaching, sports psychology expert to sports accountant, there are dozens of sports jobs to choose from. There are actually jobs similar to those in any industry, expect that you specialize to become an expert in the sports area. Nutritionists, for instance, are prepared to have knowledge that could improve the performance of the specific expert. However, it all starts with a college degree in the right field. Research carefully on what you wish to become and find a degree program that could help you become what you want to be.
Turn your Passion into a Profession
If you are like most people who join the sports sciences, you love sports. You probably dream of being a high school coach. You probably want to be a sports manager in soccer because you love the sport. Fortunately, you can work with the exact sport or team you love by simply pursuing the right degree. And not only can you work with your favorite team, you become part of the team. You celebrate together with your team knowing your impact on athletes is working and feel frustrated when the team is not doing so well.
What Skills do you need?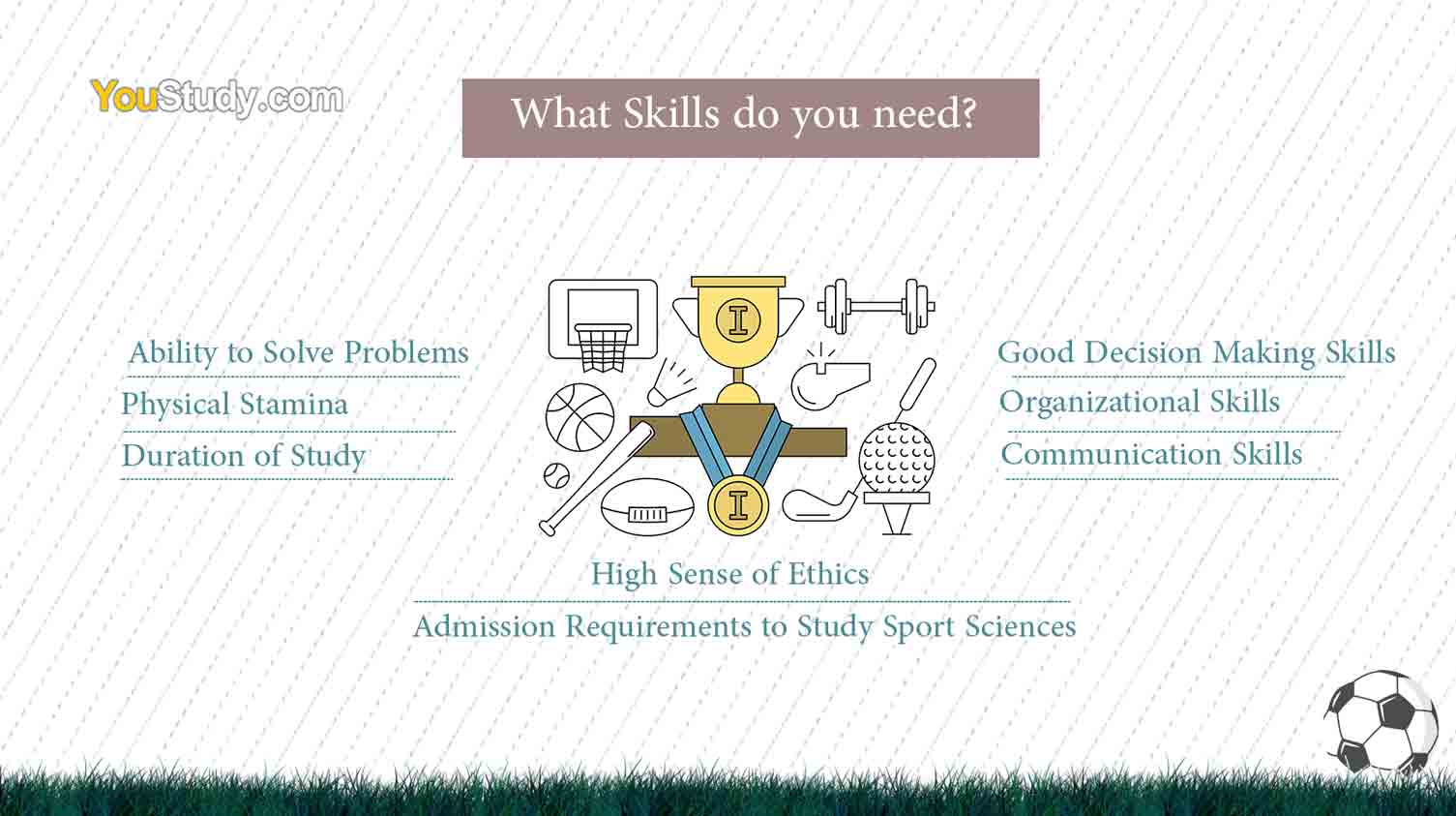 As someone who hopes to work in the sports sciences, you must possess leadership skills and people skills. Additionally, you must be an expert at what you do if your sports team or client is to perform efficiently and keep you as their consultant. Below we highlight some of the main skills you will need irrespective of the domain within sports sciences you join.
In sports, teamwork is quintessential. You can't do without working with others. You also can't work with others efficiently without communicating effectively. Train yourself to be polite, articulate and good at listening if you want to have a prosperous career in the sport science fields. If you wish to be a sports coach, you will want to know how to talk like a leader and when to communicate with a friend. Talking to high profile requires that you know how each person wishes to be addressed.
In most professions within the sports science, you are required to keep records. You will often multitask, handle multiple clients and talk in board meetings. All these activities require that you be highly organized in order to satisfy all your clients and improve output at what you do. Keep in mind that professions in this industry are highly competitive. If you are disorganized, high profile clients will often drop you immediately.
Good Decision-Making Skills
What makes legendary coaches? Some would say the ability to make the right decision at the right time is important. Sports managers who can't identify good talent and hire them at the right time will often regret in the future. If you are a physiotherapist, good decision making can also help keep your clients physically fit for longer. In certain times, you will be required to make swift decisions. Some of the decision will ask for ethical judgment, and you must make the right choice.
Once in a while, you come across sports personnel who fell from grace for making the wrong choices in life. Some famous sports people have lost their jobs for very silly ethical choices. It happens even to those who work behind the scenes. Collaborating with athletes to commit sports doping, for instance, will instantly have your license suspended. Cases of corruption have seen numerous sports coaches and doctors lose their jobs. You can avoid it by joining an ethics class. Learn how to be a critical thinker and remain professional in whatever decisions you make.
Ability to Solve Problems
One of the main reasons you need professional training is so that you can possess the skills that will help you solve athletes' problems fast. If you can help an athlete regains physical fitness in the quickest time possible, you will be paid highly and you will ever work for the top clients you have always wished to work for.
If your goal is to help professionals improve their physical fitness and body performance, you must be a role model for it. At times you will be required to run fast when your client gets injured, and it requires great physical stamina to excel at this. You must also prove to be an expert at what you do through your portfolio and your physical fitness as well.
Admission Requirements to Study Sport Sciences
In the UK, admission into a college degree for the sports sciences demand that you must have an A- in two courses or a BTEC extended diploma in a field related to sports sciences. You must also meet all UK English language tests. In the US, you must demonstrate an interest in the field of study through an essay and have a high school diploma.
Duration of Study
Depending on the sports science institute you join and the course you wish to pursue, the duration of study can differ. Most colleges, for instance, offer short courses for people who wish to be sports coaches in high schools. However, normal undergraduate degrees in most universities take 4 years to complete.
What are the Job Opportunities?
The end goal of pursuing a college degree is to find a job. Within the sports sciences, job opportunities range from management to nutritionist, accounting to technology innovator. Here is a list of some of the most popular career paths people follow after completing a degree in the sports sciences.
Fitness center manager

Physiologist

Sports coach

Sport therapist

Health promotion specialist

Sports team manager

Athlete nutritionist

Talent scout

High school teacher

Sports accountant

Personal trainer
What is the Expected Salary?
According to studies in the UK, there is a higher than average demand for sports science graduates. More than 60% of students who graduate in this field end up getting permanent employment. The sports science degree salary may not be the best, but it's still not shabby. The salaries for professionals in this industry range between $40,000 and 60,000 a year.
Top 10 Sports Sciences Schools
University of Loughborough Loughborough University, United Kingdom

University of Sydney The University of Sydney, Australia

The University of Queensland, The University of Queensland, Australia

University of British Columbia University of British Columbia, Canada

University of Birmingham, United Kingdom

The University of Toronto, University of Toronto, Canada

University of Otago, New Zealand

Pennsylvania State University, United States

University of Florida University of Florida, United States


University of Alberta, Canada